The Northeast Ocean Data Portal (NortheastOceanData.org) is an information resource and decision support tool for ocean planning, management, and decision making from Long Island Sound to the Gulf of Maine. The Portal provides user-friendly access to maps, data, tools, and information needed by a broad range of government entities, non-government organizations, and ocean stakeholders.
The Need: Easy Access to Ocean Data
The U.S. National Ocean Policy calls for regional-scale ocean planning supported by a robust data management system. However, data on environmental, socioeconomic, and regulatory parameters have been scattered among different sources and difficult to access. The Northeast Ocean Plan identified the Portal as a key resource to support regulatory and management decisions, and it must be maintained and updated.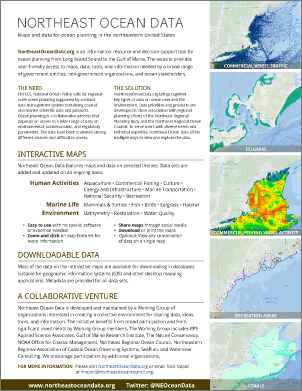 The Solution: Northeast Ocean Data Portal
The Portal brings together key types of data on ocean uses and the environment. Data priorities and products are developed in close association with the Northeast Regional Planning Body, Northeast Regional Ocean Council, and stakeholders with expertise in the topics. To serve a diverse range of users, such as researchers, industries, and environmental conservation organizations, the Portal offers multiple ways to view and explore the data.
Download a one-page overview (pdf)
A Collaborative Venture
The Portal is a collaborative effort involving federal agencies, New England states, ocean stakeholders, and many others. The Portal is developed and maintained by a Working Group of organizations interested in creating a collective environment for sharing data, ideas, tools, and information. Currently, the Working Group members are RPS ASA, The Nature Conservancy, NOAA Office for Coastal Management (NOAA OCM), Northeast Regional Ocean Council (NROC), Northeastern Regional Association of Coastal Ocean Observing Systems (NERACOOS), and Waterview Consulting. We encourage participation by additional organizations.
Support for Regional Ocean Planning
Since the launch of the Northeast Ocean Data Portal website in June 2011, the Working Group has focused on data priorities associated with ocean planning activities of the Northeast Regional Ocean Council (NROC). The Working Group integrates key datasets and develops functionality to access, visualize, and analyze data to support NROC initiatives. The Northeast Regional Planning Body website provides information about the ocean planning initiative, including how maps and data from the Northeast Ocean Data Portal support the process.
Get Involved
We work actively with many data providers, stakeholders, and organizations in the region, and we coordinate with related ocean data efforts in the mid-Atlantic region and at the federal level. We encourage organizations and stakeholder groups interested in the advancement of ocean planning, and its related products and policies, to take part in the Northeast Ocean Data initiative. For more information, please contact a member of the Working Group's steering committee: Nick Napoli or John Weber (NROC), Jenn Greene (The Nature Conservancy), Ru Morrison (NERACOOS), Daniel Martin (NOAA OCM), and Kelly Knee (ASA).
Technical Overview
For information about Northeast Ocean Data's technical approach and system, please see the technical overview.